ExplorerGM's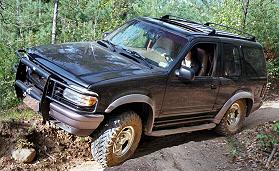 Rick's 1995 Ford Explorer Expedition
1995 Explorer with Expedition Package. (Listed apart from the Sport, and not available after 1995.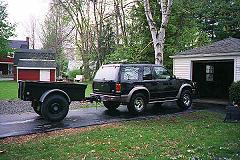 1946 Tank Trailer
4.0V6, Overdrive AT, HD Cooling, AC, Underbody Skid Plates, 3.73 gearing, 255-70/16 Tires, Chrome 16" wheels, 6 CD Player, Premium 6 speaker sound system, Leather, Power -Windows, Locks, Seats, Steering, Brakes. Keyless Entry, Tilt Wheel, Roof Console, Front Brush Guard and Fog Lamps, Rear Taillight Guards. Roof Rack, Rear View Mirror with Auto Head light control and Auto Dim feature, Alarm. Two Tone Paint.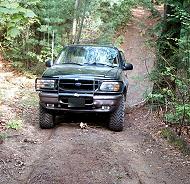 My additions: Limo Tinted Windows, 2" lift with heavier torsion bars and shackles, Lowered Sway Bar, 32x11.5/16 Mickey Thompson Baja Belted Tires, Flowmaster Delta Flow Muffler and 2.25" side exhaust, K&N Cone Filter, Modified filter housing, 55/100 Headlamps, 55 watt tail & backup lamps, Trailer Hitch & Wiring. HD Wiper system for use under heavy snow conditions. Mobil 1 fluids throughout. More Alarms! Matching 1946 Tank Trailer with 33" tires for off road use.
---
James Willis's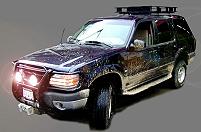 New York City Pothole Killer
---
Paul Golby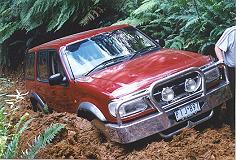 Having fun "down under" in some serious clay mud
---
I haven't done much to customize my Explorer, but I did add 1.5 inch spring locks in the front and air shocks in the back to fit my 31x10.50 Super Swampers. I also added a 10 disc Sony CD changer
---
Keiths's Explorer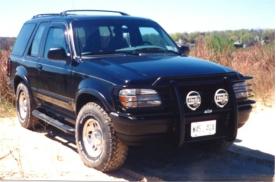 ---
Bob Batson's


My '92 XLT when not in use hauling ore in Nevada
Smittybuilt "cow catcher" 63mm Throttle body 2.5" Superlift Edelbrock shocks 10.5 x 31 BFGs Conical air filter 75mm MAF orifice Borla headers/cat-back Flowmaster free-flow cat converter CB, phone, GPS, radio, etc. All synthetic lubricants 120,000 miles to date
---
Rick Eldridge's Explorers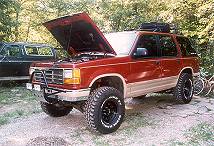 Vortech, Flowmasters, Cat-back,4 inch Trailmaster kit, 33's,
3.73 gears, Borla headers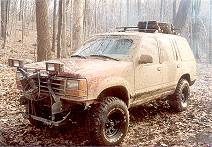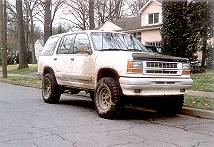 Explorer Limited