Have you discovered yet that there is no end to mods for your Explorer?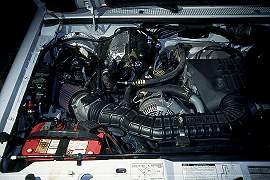 This is a simple modification that requires very little fabrication. The power gains seem impressive for the low cost and this is one modification you can do in about an hour.
4.0 Liter Performance (also know as Central Coast High Performance) will ship you almost everything you need for the swap for $89. The kit consists of the 7" K&N conical filter and one filter adapter of billeted aluminum. You can also buy the filter separately and make your own bracket or cut one from a damaged or salvaged MAS intake, but the total cost may exceed just getting the parts from 4.0 Liter Performance. Their order phone number is (805) 925-8848, but they may have an 800 number by the time you read this.
Simply remove the entire air cleaner housing box and intake duct and replace it with the adapter and the open element conical filter. Remove the temperature sensor from the old intake box. There is one vacuum line that you will need to plug and one line that connects to the air intake temperature sensor. If you don't hook up the air sensor, your idle will be off and the computer cannot adjust for temperature. Use some wire ties to keep these attached and not flopping around. That's really all there is to it.
However, for a proper fit you may need to shorten the air outlet tube so that it will not crimp. Mine required shortening by about 1" so that there was no "flat bend" in the air outlet tube.
You will also find that the now free intake hose and conical filter will barely fit. I took some closed cell foam (about a 3" flexed square of the material) to separate the filtercharger from the relay box that it rests against and also put a similar sized patch between the intake hose and the upper radiator hose. While this wedged everything in place quite tightly, the middle part of the intake hose wanted to migrate to the rear. The closest place to fasten the intake hose more solidly is the middle bolt on the rear of the upper radiator. To that I fastened a 1" square tube piece and cut a slot to hold a double length of hose clamp around that central part of the intake hose that reads "Caution Fan." This clamp then was tightened gently pulling the 8ntake hose into the present position and the whole unit no longer creeps backwards. I will watch this carefully and, if there is any wear to the intake tube from the clamp, I will insert some closed cell foam for padding. So far it does not look like it needs it and everything is staying solidly in place even off-road.
There may be room to raise the conical filter to a more level position and put in a small air pump (such as a Quick Air I)…I'm keeping that option open for later. Also my wrench, a gonzo Mustang junkie, wants to experiment with a solid mandrel bent smooth metal intake tube. He says that the rubber intake tube has those small ridges that slightly disturb straight air flow. Have you discovered yet that there is no end to mods for your Explorer?
The results? Much quicker acceleration and more all out raw stomp it power. The engine gulps air and the intake hums. I did experience a drop of 1-2 MPG in gas mileage and a bit of power "lag"…it almost felt like the old first generation turbo "lag" some turbocharged sports car used to have. A quick "cry for help" e-mail to Rick set me straight. He recommended that I disconnect the battery and reset the computer. Worked like a charm…after a couple of minutes of computer "relearning", I got my good MPG back and lost the "lag" forever!
Seat of the pants, I am going to guess that I got at least a 10 HP gain (and maybe more?). The long steep hill up to my village used to bog the engine…now I accelerate in 4th all the way up. Passing is quick stuff now. I'm back on cruise control more, so I won't tease the Highway Patrol.
I already had done the larger MAS and intake manifold intakes, plus Borla headers, a low restriction catalytic converter, ending with the Borla tuned exhaust. Putting in the conical filtercharger got rid of absolutely the very last air obstruction….well, maybe until rebuild time when I will deburr and port the head and maybe do the extrude honing. Oh, have I by chance forgotten to mention that there is no end to modifications for your Explorer?