Monday most of the group had hit the road to start the work week. A few of us lucky souls were able to stay on for another half day of wheelin'. I believe there were seven of us left on Monday morning. Once again Paul led the group into the Truckhaven trails. Paul said that we drove farther in than he had ever been before. We were able to make really good time with such a small group.

We ate lunch near a small cave in a pretty cool looking secluded area. Some of the group climbed up the side of the hill looking at a dry water fall.

Just before returning to camp Paul tried a cool trail that was nothing more than a deep rut in the ground. It's like these things were put there just for us offroaders to play in. Paul worked the obstacle very well with the help of Darien's spotting. I was up next and initially declined. I was afraid I would damage my truck again and I didn't want to break it since my new Dana 44 is waiting in the shop for a transplant. Anyway my wife coerced me into trying the trail. What else can you do when you WIFE calls you a wimp?? I told her that if I broke she would have to pay to get it fixed, since she agreed, I went for it! Anyway, nothing broke and it wasn't really that tough. I did have one problem though, I hit the button to disengage my front Airlocker and started to turn to the right. All of a sudden the ARB disengaged and the truck jolted straight ahead in one swift move. For the first time ever I made the stupid mistake of sticking my arm out the window, as if I was going to stop the 5500lb Explorer! Luckily I pulled my arm back in as quick as I stuck it out.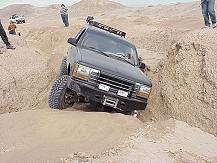 Paul in a gully
I can't remember the exact details, but there were a couple of minor high centers on Monday and I think one of them required a tug to get through. You see Paul and I were in a deep gully and couldn't see the guys who were helping the stuck Explorer get out.
At about 1:00pm we headed back to camp to air our tires up, reconnect the sway bars and say our good byes. It had been a GREAT weekend. What a fantastic group of people to go wheelin' with, it's like we knew each other for years. Everyone was friendly, helpful and considerate of others. The people who attend the "Serious Explorations" trail runs are among the best four wheelers I have ever encountered. The fact that Ford enjoys our company and joins us for these runs is just icing on the cake! We learn from them and they learn form us, that's what it's all about. I'm looking forward to the future when Ford starts to incorporate some of our ideas into their new products.
My sincere thanks go out to:
Paul Bredehoft
Ford Motor Company
Trailmaster Suspension
Explorer Express
KKM
PIAA
FLY-N-HI Offroad Centers
&
The Chart House Restaurants
For making this an awesome event for everyone involved!

Page 1 | Page 2 | Page 3 | Page 4 |
Photos 1 | Photos 2 | Photos 3 | Photos 4