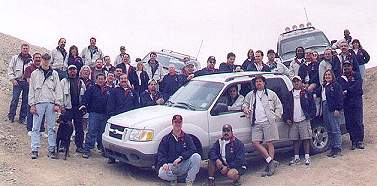 Drivers and Ford Crew in their new Explorer Sport Trac Jackets
After the group made a few passes up the first set of hills we departed for some more fun obstacles. The 2001 Sport Trac was really showing the disadvantage of a long wheel base and low nerf bars. Although it never got stuck; we could hear the bars scrapping regularly. By lunch they were angled upwards instead of sitting level. To Ford's credit these bars are easily removable and once removed they won't leave any gaps or holes in the body. Many people commented how good the Sport Trac would look with Trailmaster's 4" lift kit. I have to agree it would be a great looking rig and the improvement in ground clearance due to increased tire diameter would make it even more offroad worthy.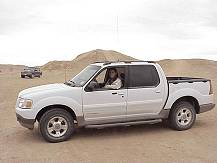 Juan Felsmann driving the 2001 Sport Trac
Speaking of Trailmaster...we found a nice hill climb with a rock ledge thrown in for good measure. Even some of the locked rigs were spinning their tires getting up the hill. Trailmaster's rig was unlocked so they decided not to go for it...until my wife intervened that is. Charlotte "coerced" Trailmaster into trying their rig on the trail. Pierre, one of Ford's crew, was behind the wheel. He had never driven offroad before and this was his first real obstacle. Anyway, Pierre guided the Trailmaster Explorer up the hill and over the ledge with no problem at all. Although the wheels were spinning he made it look pretty easy.


| | |
| --- | --- |
| Kevin Kocher climbing into the sun | Trailmaster Explorer lifting a rear tire |
Another good photo op was to be found after lunch. Everyone was getting some air under at least on tire as they made their way down the narrow chute. My favorite shot is of the 2001 Sport Trac coming down the gully. It looks like it's nearly vertical with a tire off the ground to boot.

Watch your step!
We only had one bad stuck on Saturday. Jose Soto dug himself into a bad spot attempting to climb a steep trail. I set up my winch to try and pull him backwards but, large boulders weren't going to let us pull from the rear. Finally, Matt Adams gave him a winch line from the front and pulled his rig up the hill. I captured a spectacular shot of Jose kicking some dirt about 20 feet into the air as he tried to free his rig.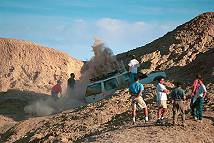 Jose kicking up some serious dirt!
After Jose was pulled free we headed back to camp. One more long hill climb only proved difficult for the stockers. A ledge near the top with narrow walls thrown in made it exciting for the non-locked rigs. Once on top of the ridge we could see our base camp in the distance. We made our way back, in short order, in anticipation of the nights activities.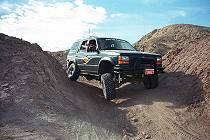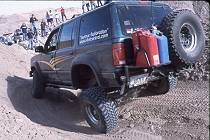 Rick Horwitz stretching the suspension same spot different angles
Page 1 | Page 2 | Page 3 | Page 4 |
Photos 1 | Photos 2 | Photos 3 | Photos 4