26 Explorers and 1 Ranger make for the largest "Serious Exploration" yet






"Getting 30 Explorers together in one place is no big deal, you see them everyday in shopping malls around the country. Getting 30 Explorers together for a weekend of offroading is a different story!"
Truckhaven is a fourwheelers paradise. There are thousands of acres of steep hills, narrow gullies and dry water falls, all of it is open for our off-road enjoyment. Paul Bredehoft and Bill Collins (RangerX) were very familiar with this spectacular off highway vehicle area. Being Southern California residents, Truckhaven is right in their "backyard".
I met up with Paul Friday afternoon to help do some scouting for the upcoming weekend. When I arrived I saw Matt Adams and Paul setting up the 16' x 4' "Serious Explorations" banner on the side of Hwy. 86. Matt having driven all the way from Littlton, Colorado easily won our farthest distance traveled award. Getting that sign set up wasn't an easy task Under a soft layer of flour like dust was a rock hard base. Paul used his electric drill to bore holes for the rebar stakes that he had brought to anchor the large sign. Once the sign was completed we went to the campsite to wait for Paul's mechanic, Darien Gagnon.
Darien had just finished installing an Advanced Adapters Atlas II 3.8:1 transfer case in Paul's truck the day before the run. Darien's wife drove Paul's truck to the event while Darien drove a rented 35' motorhome. It turned out that Darien didn't make it to camp until about 3:00pm so our scouting trip ended up being a very short one. We roamed the hills close to camp for a short time before heading back to meet the others who had arrived at the staging area. By the time we got back about 15 people had gathered.
On Saturday morning my wife and I went for breakfeast at the our hotel. That's where I ran into Rick Haas from Ford. Rick invited us upstairs to the hotels banquet area. That's where Rick first introduced me to the crew from Ford, and what a crew it was! 20 people representing just about every aspect of Ford Explorer planning, marketing and manufacturing were on hand for this event. I just hoped that we could meet their expectations with this run.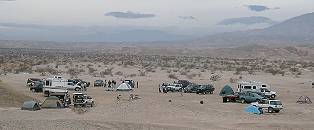 Overview of the Truckhaven staging area
After breakfast we hit the road to meet with the folks who had camped at the Truckhaven site. We arrived at about 8:30am. It was a great relief to see the large group of Explorers which had gathered during the evening and that morning. It's one thing for people to commit on "paper", but it's another thing for them to actually show up. Besides having 23 Explorers from our website, there were 3 Explorers from Ford including the 2001 Sport and 2001 Sport Trac, Trailmaster's lifted '99 Explorer, and Explorer Express's supercharged '99 Explorer. This had become one very impressive display of vehicles!
8:30 -9:00am was spent airing down tires, disconnecting swaybars and, of course, introducing ourselves to one another. We also used this time to check out each other's vehicles looking at all of the mods both under the truck and under the hood. The Explorer Express "Explorer X" looked a bit out of place at the event as it had a lowered sport suspension and rides on wide Pirelli tires. It was definitely a fine looking rig though! The 5.0 litre engine with the X-charger blower looked and sounded great!. The installation looked like it came straight from the factory. I offered to let the owner of Explorer Express, Dave Vanek, and his wife ride with us, but they opted to do some sight seeing on their own and meet with us later at the Ford sponsored buffet.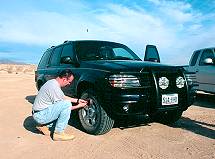 "Green Goose" airing down his stock '99 Limited
| | |
| --- | --- |
| "Explorer X "from Explorer Express | Trailmasters '99 with 4" lift |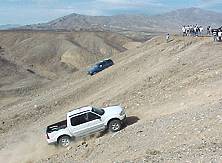 2001 Sport Trac climbing
9:00am, time for introductions and drivers orientation. First I introduced Rick Haas from Ford who in turn introduced us to the Ford crew who would be driving with us. I spoke to the group about safety and the importance of staying together. Paul Bredehoft spoke a bit about the area and possible hazards which we should be aware of. Michael Rudd, Feature Editor and Photographer for Fourwheeler magazine, also spoke to the group and informed us that he would be riding along with us in his Jeep.
9:30am, once we were through with the drivers meeting we hit the trail. Our first obstacle of the day was to climb a hill which probably had half a dozen trails leading to the top. Everyone was able to find a good trail to the top; stockers took the easier paths and the modified rigs took the steeper, looser trails. Ford took their unlocked 2001 Sport and Sport Trac up some of the looser more rutted trails. It took several attempts, but with speed and determination they got their trucks up to the top putting on a good show with dirt flying, tires spinning, and wheels bouncing! Their trucks held up great. They made it no worse for wear, at least, from this encounter.


Colin Ignacio



Page 1 | Page 2 | Page 3 | Page 4 |
Photos 1 | Photos 2 | Photos 3 | Photos 4