For everyone who has been awaiting a lift for the late model Explorer there's great news. Trail Master has made a 4" suspension lift based on their popular Ranger lift kit. The prototype looked great on their '99 Explorer.
Trail Master's Explorer is running 295x75-17.00 tires which are approximately equivalent to 32x11.50's. It appeared to me that 33's should fit without a problem. The 295's fit perfectly within the stock wheel wells without the need for extended flares. Their 4" kit will include a new rear spring pack and drop brackets for the front suspension. One of the key engineering features of this kit is that the CV joints retain their stock angle allowing full droop and compression travel. Trail Master can be reached at: 1-800-487-2456 Let them know you saw it here first!
While I was discussing their new lift kit I invited Trail Master to attend our next Explorer run. There is a good possibility that they will attend with this Explorer.
ARB is also introducing a lift kit for the late model Explorer. Their kit will be good for about a 2" lift. Details were not yet available as to what the kit consists of. ARB's President is familiar with this site and is is anxious to work with us to get their product reviewed as soon as it's available.
Next up is Ford's own concept Explorer the "Arctic Explorer". This Explorer, based on the 2001 Sport Trac was fitted with 285x60-18 tires, a tubular brush guard and several interior upgrades. Not a bad looking machine, but not nearly as offroad worthy as I would have like to have seen.

The best concept vehicle in Fords stable was the Desert Excursion. Based on their Excursion SUV, this truck had 4 doors and a short bed. The departure angle is greatly improved compared to the huge SUV which it is based on, this was accomplished by shortening the body thereby reducing the rear overhang. The Desert Excursion also featured 36x12.50-16 Swampers, dual shocks front and rear, dual fuel tanks, and a hidden front winch mount.
It's kind of sad to see how well the aftermarket is supporting the new Excursion. There are several lift kits and accessories available for it already. In my opinion it's just to big for any serious offroading especially the kind that includes narrow trails and shelf roads. You can't blame the aftermarket though. It's an easy truck to lift with it's solid front axle and it looks like a true monster with just a few inches added to it's already gargantuan stature.
There was one other noteworthy Explorer which I saw. It was a '99 and it carried the "C4" logo. It looked like it had the torsion bar mod with an add a leaf. The owner wasn't available, but I got his number and I'll see if he's interested in having it featured here.
Well, that's it for today. Two more days to go and hopefully I'll have more good news to report.
Day 2
More GREAT news. Dave Meisner. was correct when he told me that the Atlas II transfer case is now available for the Explorer. The Advance Adapters Atlas II is available in two configurations. Ultra Low 3.8:1 reduction and Extreme Low 4.3:1 reduction. This is an extremely strong unit built for the serious rock crawler and offroad enthusiast. You can contact Advance Adapters at 805-238-7000. Let them know you saw it here!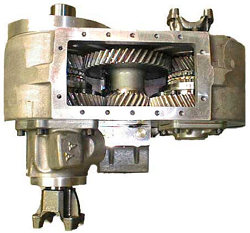 It is a gear driven transfer case instead of the stock chain drive and utilizes helical cut gears for quiet operation. Shifting is synchronized and accomplished with dual sticks. This unit bolts directly to the stock Explorer manual or automatic transmission.
I was pleased to hear from Advance Adapters general manager that input from this website was directly responsible for the production of the Explorers transfer case adapter. We are making an impact! This year has brought out 2 late model Explorer lifts and now this awesome transfer case conversion.

Day 3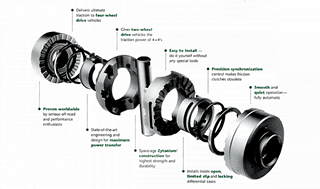 I visited the Powertrax booth and had a chance to photograph their locker in a Ford 8.8" rear end. The Powertrax folks told me that the unit is essentially the same as a Lockrite Locker, but has the advantage of smoother engagement and less noise on the road. This is accomplished by the use of precision machined synchronizers. The Powertrax Locker uses your stock differential case and is made for both open and limited slip cases.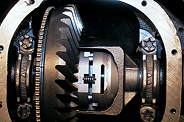 Contact Powertax at (800) 578-1020 or visit their website at: www.powertrax.com