I modified my 1999 Eddie Bauer Explorer with the goal of maintaining its daily-driver functionality while also being capable of fourwheeling on all but the most extreme of trails. The Explorer is a perfect starting platform, capable and strong enough in its own right to tackle surprisingly tough trails in stock condition. Even before most modifications were done and I was still basically stock, I found that I consistently surprised and outperformed other fourwheelers driving other brands of 4wds who were unaware of the capabilities of the late-model IFS Explorer.

Truck Haven, CA


Oceano Dunes, Pismo Beach, CA


Truck Haven, CA
It is a joy to be able to take a luxury vehicle - complete with genuine woodgrain dash, leather, total luxury option package, etc - on a 4wd run and still be able to hang with the "BigDawgs" enjoying the challenge of all but the toughest of trails. "Herc" is a good-looking daily driver, can be driven to the trail instead of trailered, has all the comforts and A/C, doesn't break any parts during the run, and dependably gets me home afterwards. As of December 2001, I have wheeled Herc hard for 75,000 miles and have yet to experience a breakage that stranded me on the trail.
Many of my modifications - such as armored running boards, Herculiner'd rocker panels, grill and light guards, etc - are to help maintain the body parts and sheetmetal and keep Herc in presentable form. After all, it is still a fairly new luxury edition SUV, as at home fulfilling its duty as a daily driver as it is capable on the trail. Boiled down to the basics, the only mods on Herc that directly contribute to its trailworthiness are a rear locker and big tires (along with enough lift and fenderwell trimming to clear the oversize tires). That's it, really. It is still 99% original stock Ford Explorer in its current parts configuration.
Engine:
4.0L SOHC V-6

Transmission:
5 Speed Automatic
Tires:
295/75r16 B.F.Goodrich A/T KO's
Front Suspension:

Torsion bar twist for lift using heavy duty "B" rated torsion bars.


Rear Suspension:
Add-a-leafs in addition to extended Warrior shackles and Old Man Emu shocks.
Differentials / Gearing
4.10 gears. Powertrax NoSlip locker in the rear.
Electronics:
Cobra WX ST 75 CB-in-mike w/weather channels, GPS - Garmin III+, Hands-free cellphone center.
Misc.

3" Performance Accessories body and bumper lifts, modified to fit my '99
K&N filter w/drilled airbox
Gibson catback exhaust
WAAG grillguard/taillight guards
Armored running boards
Rocker panels and WAAGs protected by Herculiner
SURCO safari rack
PIAA 520 black fogs
Antisway bars removed
How effective is this nearly-stock setup? Effective enough to conquer trails with a difficulty rating of 4+ on the Moab scale and 8 on the Colorado scale. The following is a partial list of some of the more difficult trails that I have run.
Gilmer, TX - The Airstrip. Clayton, OK - Purple Headed Monster. Colorado - Black Bear Pass, Holy Cross, Wheeler Lake. Moab, UT - Golden Spike, Metal Masher, Lion's Back, Hell's Revenge, Poison Spider Mesa, Moab Rim, Tellico - Schoolbus.
Not too bad for a grocery-getter, huh? I feel confident that I will continue to enjoy my late-model Explorer for many more adventures on the trails.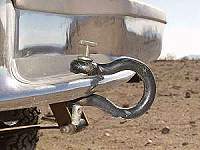 Here is a quick and easy rear tow point.
No excuse not to have a tow point now!

Flat plate steel is used to
reinforce and protect the steps.
For further information check out Gerald's
Explorer Registry Page