The trail from Tin Cup Pass to St. Elmo was rocky, but easily traversable by all. The first 100 yards after Tin Cup Pass was a narrow shelf road. After that the trail gently descended back to about 9,000 ft. through thick pine forest. This was the first weekend of the hunting season and we passed many hunters on ATV's, and at their camps sites.
After about an hour we drove into St. Elmo. The town is exceptionally well preserved, straight out of the late 1800's. Like Tin Cup, a few of the buildings are occupied, but most are boarded up and privately owned. We met an old timer in town who gladly opened up the town hall / jail for all of us to see.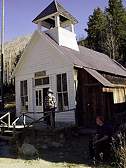 Old Timer at Town Hall
Photo by: David Meisner
| | |
| --- | --- |
| Miners Supply | Post Office |

"Chipmunk Crossing"
Photo by: David Meisner

One of the most notable attractions of St. Elmo is "Chipmunk Crossing" . Here the chipmunks have become so accustomed to people that they will crawl all over you while you feed them seeds. There were between 10 and 20 chipmunks while we were there.

A weasel invaded the chipmunks territory scaring the heck out of them. The weasel even BIT Lewis Thompson one of the Ford reps. We are glad to report that Lewis survived the vicious attack upon his finger!

Town Jail
Photo by: David Meisner


Stream Runs Through Town
From St. Elmo the group dispersed. Trace, and David headed back to their homes farther North in Colorado, Barry had a long ride ahead of him to reach his home in Calgary and Paul was heading back to Kansas. We had a great time, met lot's of new friends all with very similar interests besides Explorers, and now it was time to head back to the real world refreshed from our three day adventure in Colorado's beautiful Rocky Mountains.
I would like to thank the engineers from Ford for being such good guests. Our group of "Explorers" enjoyed having them ride along with us on our Colorado journey. We learned a lot from each other and they are always welcome to join us for our next "Serious Exploration"TM.
Keep checking the main page and the message board for information regarding our next "Serious Exploration"TM.