I'm an 18 year old college student who lives in Ellicott City, MD. I've dedicated the last three years into building a trail worthy custom truck. Just about all of the money I've made in the last three years have gone into it along with hundreds of hours of labor. I don't have a garage so most of the work was done in my driveway usually in the winter months. Occasionally I would be offered a garage to work in but that was rare.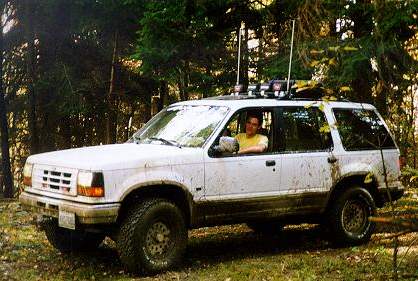 All of the custom modifications were done by myself and my friends, and the exhaust was handled by Raja up at Manik Mufflers on Route 40. Some of the maintenance and engine problems are handled by Koons Ford with special thanks to Dave Miller, Brian and "Dano". Most of my custom accessories are from Bruce Hesselbacher at Ben Pilla Performance in Randalstown. Bruce has provided me with every imaginable custom accessory over the past few years and my truck would still be stock if it wasn't for him.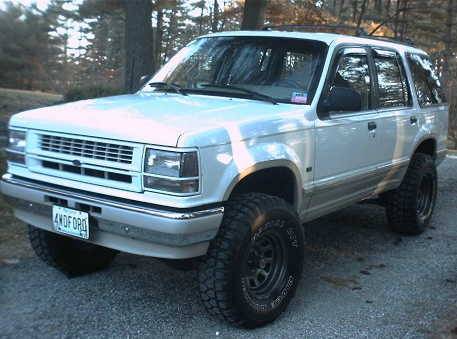 Most of the truck has been rewired to meet the needs of all of the add on accessories. A lot of the custom work is centered around lighting, from neon, ion bulbs, multicolor bulbs, fog lights, flood lights, xenon strobes, etc... The bracket alone for the front fog lights took over forty hours to bend into shape. Under the front bumper is Mazda Airdam which did not exactly bolt-up to a Ford bumper.
Essentially a Navajo and an Explorer are the same, but the Explorer bumper is tapered at the bottom which adds a few days work to mounting the airdam along with the lights. All Navajo airdams are made of a plastic-rubber material and are all black. They are not supposed to be painted, so it's a constant battle to keep the paint from blowing off.

At night, the interior looks like the cockpit of a jet. I have totally redisigned the dash setup to accommodate, digital gauges, LED's, tachometers, switches, and brackets made of vinyl coated sheet metal. Autometer doesn't make an A-pillar gauge pod for explorers, only Expedititions, so I fabricated a dual pod from Autometer brackets.

There are a few hundred feet of new and replaced wiring all run under the carpet or tucked away under interior trim. And for these wires to go in and out of the firewall, there is a whole drilled as wide as a half dollar. The antennas and communication devices keep me informed of traffic conditions, speed traps, and the weather. The cup holders are big enough to accommodate the largest slurpies ever made, there is also a trash can in the center console so the seat pockets are no longer used. In the back I have a wall outlet which can provide enough current for power tools, and anything that you would use in your house. Right next to it is a craftsman cord reel that has a three way splitter that is 30 feet long.
There are so many modifications, that I even forget them all. The truck is equipped with just about everything for a day of four wheeling. And ground clearance is not a problem. I haven't raised the suspension at all, I've just stiffened it up and I've added Monroe Sensa-Track Shocks. And with the Trails T/A's it handles like a sports car. Most of my driving is on the road, about 50 miles a day. So I need the handling a little more than the clearance. But with three skid plates underneath, I've never had a problem. It may not have the big tires or the suspension lift, but I've never been stuck once, and have had no trouble on trails. The only problem with the fairly low height is that the airdam frequently goes into the ground at the bottom of steep hills.

I couldn't have done any of this work without the help from my family, friends, and local speed shops. Everything should be nearly completed by this summer before the Carlisle Truck Nationals in Pennsylvania.