General: This truck is a daily driver with 76,000 miles on it. All the fabrications and modifications have been performed by us. This truck has never been in a shop. We even rebuilt our own tranny (might as well since it had to be switched to a new case anyway).

Front suspension: 7" Custom Lift, the I-beams were cut and rewelded to give 4" of the lift. New drop brackets were fabricated for the other 3" (these will not bend). The spring towers were lowered 1 1/2" (to allow us to put the old heavy Superlift springs back in when we do the dunes), and the shock mount was cut off of them.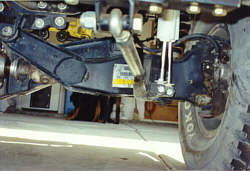 Custom coils from National Spring are used for rock crawling. They are rated at 325lb (the old Superlift coils were rated at 450lb). The free length is 3" longer than the old coils and they compress properly. The stock radius arms were cut off at the post. A section of DOM (seamless) tubing was welded on the old radius arms, leaving 17" of tubing showing. At the end of the arms, heim joints (rated at 14,000 pounds each) were attached. A new radius arm crossmember was built just in front of the tranny crossmember. The radius arms are mounted high and angled in to give the most clearance and to not rub on the tires at full lock. The inner fender wells were trimmed to allow upper shock mounts to be placed as high as possible. Lower shock mounts were positioned low on the radius arm. Dual Rancho 9000's (9012's) are used.




Front Axle: The differential is a lockright with 4.56 gears. We made a c-clip eliminator for the stub shaft to make assembly of the lockright as easy as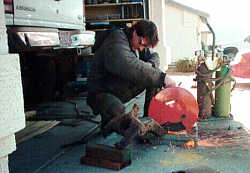 possible. Sway bar disconnects were fabricated for both sides of the swaybar. A holder was build off of the frame to keep the sway bar out of the way. The Superlift Superrunner steering is used to eliminate bump steer. When the radius arms were built, we built more caster angle into the front end. This makes the truck much more stable on the highway.
Rear Suspension: New spring pads were welded on top of the axle. We cut the eyes off of the stock Explorer spring pack and put the main leaf from the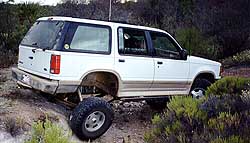 Ranger on top (gave us more than 2" more drop travel and more up travel for $65). New lower shock mounts were built off of the spring pads (on top of the axle) to get the shocks out of harms way. A crossmember was built where the old spare tire used to be, for the top mount on the shocks. This was put as high as possible. The dual Ranch 9000's are now at an extreme angle to give as much travel as possible. The rear swaybar also has disconnects on both sides. There is a Detroit c-clip locker w/ 4.56 gears.
Tires/Wheels: We run Yokohama Y826 Superdigger 33x12.50x15's on Ultra 15x8 aluminum wheels
Front bumper: Smittybuilt winch bumper w/ Warn 8000 lb winch Nerf bars: We used 2x3x1/4" rectangular tubing. These are easily removed for repainting and will never bend (they weigh 50lbs each)
Interior: A Uniden CB, with fabricated antennea mount on new crossmember on roof rack (center location gives better reception). Fire extinguisher, tons of tools, tow straps, hitch reciever, snatch block for winch, spare parts (just in case), and spare tire. None of the tools or parts are visible, its all tucked away in every nook and cranny.
Unusual mods: Behind the front bumper are 2 30-cal ammo cans that carry on the trail fix-it stuff. Behind the rear wheelwells are 2 50-cal ammo cans that carry oil, tranny fluid and other on the trail fix-it stuff. We carry a spare rear driveshaft next to the frame underneath.
Driveshafts: Both are stock. We have had no problems with them
Engine: 73mm mass air, 63mm throttle body, 1 3/8" Pacesetter headers (jet-hot coated), 2 1/2" exhaust with Dynomax muffler. The cat and the muffler are ridged mounted with flex pipe between them. The exhaust is mounted as high as humanly possible. There is also a Superchip.
Future mods: We are in the process of building a new rear bumper with a tire rack. This will hold our spare, a high lift jack, and a water can. An auxiliary fuel tank is in the design process. This will go where the old spare used to be (appx 15 gallons). Ported heads, cam, new BBK supercharger. New front driveshaft with longer splines (old driveshaft will be used as spare). Rear disc brakes. Problem areas (Boo-Boo's): 3 broken Warn hubs, 2 exploded rear Lock-rights, 1 broken long side axle, broken transfer case adaper, broken tranny housing.