Tech Sheet
Engine: 4.0 Liter V6 EFI/with Vortex Supercharger 2 1/2" JBA headers; 2 1/2" FlowMaster exhaust system. A high flow catalytic converter; K&N airfilter.
Transmission: Automatic
Front Suspension: Superlift 5.5"; Super Lift radius arms; Super Lift coil springs with polyurethanedisc or donuts as some call them inside of the coil spring. Super-Runner steering system; Front quick dis-connects for the heavy duty sway bar; Rancho 9000 shocks.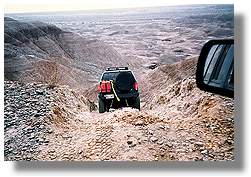 Rear Suspension: Custom made National Springs; Custom made shock mounts; Rancho 9000 shocks; Rear quick disconnects for the heavy duty swaybar.
Axles
Front: Dana 35; 4:56 Gears; ARB Airlocker
Rear: Ford 8.8" 4:56 Gears; ARB Airlocker
Brakes: Wilwood rear disc brakes; Stock Ford front brakes.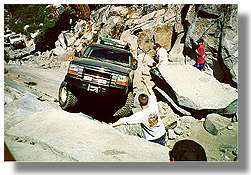 Tires/Wheels: BFG MT 33x12.50x15 on Center Line 15x8 rims.
Bumpers:
Front: Custom made by Pro Zap Bumpers with a built in Super Winch 9,000.
Rear: Custom made by Rickard Eng & Mfg. Includes a tire carrier for a 33" & a dual 5 gal. gas carrier. Also built into this heavy duty bumper is a storage area to carry tools, parts etc. There are four lockable areas on this bumper.
Roof Rack: Confer rack with a Hi-Lift Jack mounted to it.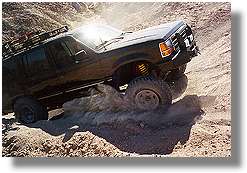 Air Supply: Underneath where the spare tire used to be are 2 NON-ACTIVE NITROGEN air tanks mounted in a custom built carrier. When needed to be refilled, the carrier is unlocked and drops down so that the tanks can be pulled out. The tanks are well protected when in place from any rocks, etc. these tanks have plenty of air supply to run air tools for repair work or for airing up tires. They will fill up a tire as fast as a gas station tank. Refilling cost is $11.00 per tank.
Interior: Leather seats; JBL audio system/ Pioneer CD changer; Alpine AM/FM stereo; Uniden SSB CB radio/Wilson 1000 antenna; Cellular phone; Security system plus tracking system.